The North Face 100 – 2015 Race Report
Let's start by going back.  It's just gone 8pm on Saturday the 17th of May, 2014.  I'm 88kms deep into my first attempt at TNF100 and I've just chucked my guts for the first time ever in a race.  I'm not gonna lie – I was completely unprepared for it and it totally freaked me out.  It came from nowhere and destroyed what motivation I had left.  After two more of these special moments I realised things weren't looking good.  No longer was I walking – it was more of a two foot drag.  A perky Australian flew past me with some words of encouragement ''KEEP GOING, YOU'LL GET THERE' 'nah I, well, I think I'm done'  'BULLSHIT! YOU'RE FINE MATE, NEARLY THERE'.  Despite his enthusiasm, my spirits stayed low, it took me a very long 90 minutes to cover the 3kms to the final aid station.  By this point the air temperature was near freezing and so was I.  With nothing in the stomach, nothing in reserve and a body temperature in the 33's I agonisingly pulled the pin.  The team there were amazing and I have the highest respect for the brilliant assistance they provided – however I have a very competitive nature, so the next day I decided I had to come back and finish the job – and I wanted to run through that 91km aid station as fast as I possibly could…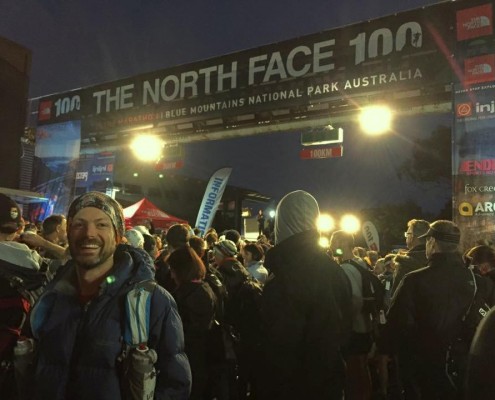 6:23am Saturday the 16th of May 2015 – Scenic world start – CP01 Narrowneck (183rd place)
Off we go.  Lovely day, good temperature, great company, plenty of jokes in the first few ks.  Road running? Sure why not.  See the elites already motoring back the other way.  They make it look so easy.  Down the furber stairs and along the semi-technical track that runs to the golden stairs.  Halfway along, full of confidence, I stuff up a footing and my shoe gets stuck between two rocks.  This catapults my knee against another rock shooting pain all over the place.  Just 5ks in.  Please no please no please no….  remove foot, start running….. positive thoughts…. come on come on…… bit of blood dripping down …. a few more k's ……. everything still working…. knee still functional…. yes! Onward!  Up the Golden stairs and through checkpoint 01 in 1:15.  I don't know if this is good or bad because I've managed to forget all the goal times my support team (wife!) and I worked on already.  Nevermind….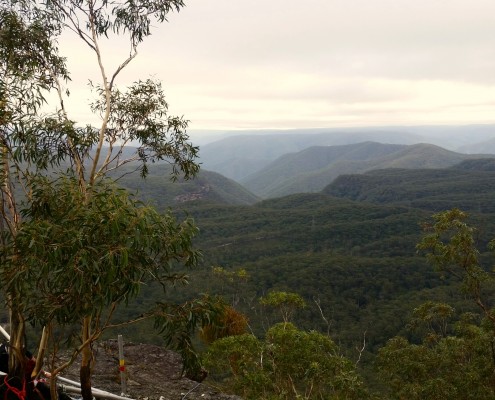 CP01 – CP02 Dunphy's Camp (171st)
Open fire roads make pacing strangely tricky.   I run downhill with small steps trying to minimise the impact on my right IT band which invariably causes me grief towards the end of these sorts of races.  This means that many, many people go past me which can be somewhat demoralising.  In races past I would have followed them but for once I listened to the little voice inside my head that said 'let them go'.  The Tarros ladders were a little busy this year but the view is awesome and it's a good time to get that gel down that you should have had twenty minutes ago but forgot… again…. into CP2 feeling bloody marvellous in 3:18.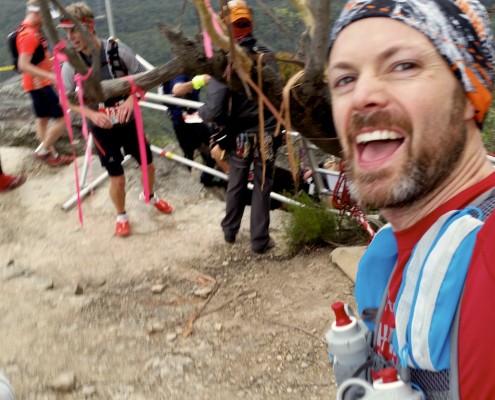 CP02 – CP03 Six Foot Track (146th)
I like hills.  Well, I like going up them anyway.  As I climbed Ironpot ridge I suddenly found myself passing all the runners who had flown past me earlier.  It's a good feeling passing people uphill – and this was to become somewhat of a theme for the rest of the day.  The local Aboriginal people are crucial to the success of this event and it was once again an incredible experience running along the ridge with the sounds of the didgeridoo ringing across the valley.  Hang a left and true to form, everyone passed me again on the big downhill out of Iron pot. 'Let them go, be cool Andrew!' – It's normal to talk to yourself in an ultra right?  I got my revenge on the massive uphill road that leads to CP3 – arrived 46km in 5:09.  Still feeling ok.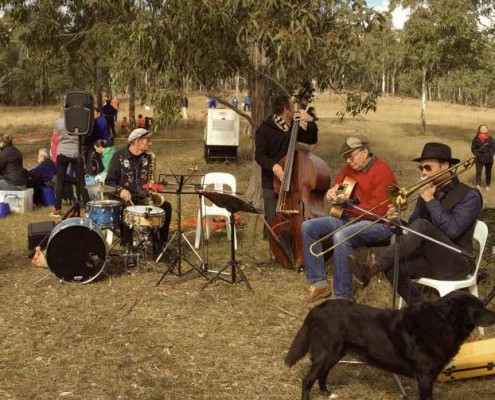 CP03 – CP04 Aquatic Centre (131st)
CP03 is such a cool spot.  Maybe too cool.  Last year I just wanted to grab a beer and listen to the band.  Flag this running gig.  Fortunately they were on a break when I arrived so the lure wasn't so strong.  Brief chat with wife, suck the insides out of a burrito (avocado and beans) eat a banana, mandarin, salt tablets and a gel (how many should I have had by now? hmmm….)  I left holding a peanut butter sandwich with every intention of smashing it on the way up six foot track.  The 50k sign is a great thing.  Every step from now is less than I've already done. Yes! Up Nellie's I felt great – unlike the previous year when I cramped halfway up the stairs – also a first – I had no idea what to do about calf cramp! (yes, there were a lot of unfortunate firsts in the 2014 race).  Again I got to enjoy the rare experience of passing people up stairs – sorry!  Rock up to CP4 – 57kms in 6:41 feeling a bit tired but otherwise on track.  I still had the uneaten sandwich in my hand – rock hard by now.  It turns out I really don't like chewy stuff while running.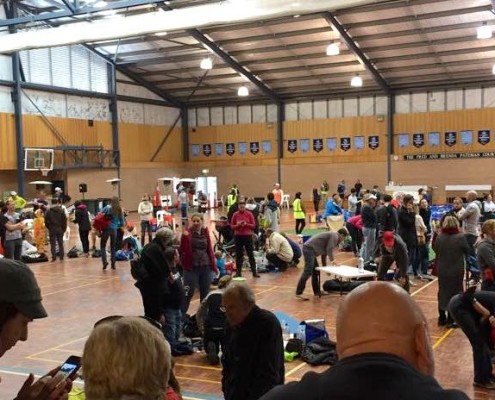 CP04 – CP05 Queen Vic Hospital (118th)
I wasn't looking forward to this section – last year I found it to be quite horrendous.  It took over four hours and it felt like 4 days.  So. Many. Stairs. This year I discovered that a whole section of misery had been removed – the very difficult staircase down from Echo point was closed off – replaced by a flat road section.  It kinda felt like cheating but I won't tell anyone if you don't.  I can't believe I'm saying this but I actually enjoyed all 21kms to CP05 in just over 3 hours – perhaps because I was dreading it so much.  Elapsed time was 9:46.  A short sit down as my left calf was pinging a little bit.  More beans and avo, another gel – my 11th of the day – banana, mandarin some nuts and then off.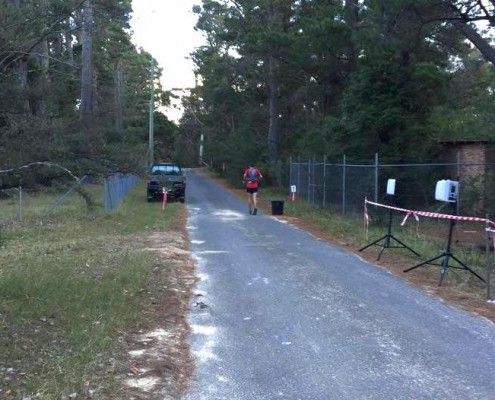 CP05 – 91km Aid Station
A super long downhill kicks this final stage off – 7kms or so.  I was still taking it really easy for the first half of it – mainly out of habit.  Then I realised this was the last downhill of the race so I threw caution to the wind and went for it – it felt great to be finally bombing the downhills like everybody else.  Also, it wasn't dark yet and the sunset was just incredible.  I reached the lowest point (geographically) of the race – a small river crossing called Jamison Creek – still feeling alarmingly good.  Shouldn't I be vomiting by now? Hating every step? Wishing for it all to be over? Something was seriously wrong… or right… or something.  Suddenly I was at the dreaded 91km checkpoint, quick water refill, a 'thank you for being here' and I was off like a scared rabbit.  Race time was 11:27 (it had taken me well over 15 hours to get here the previous year).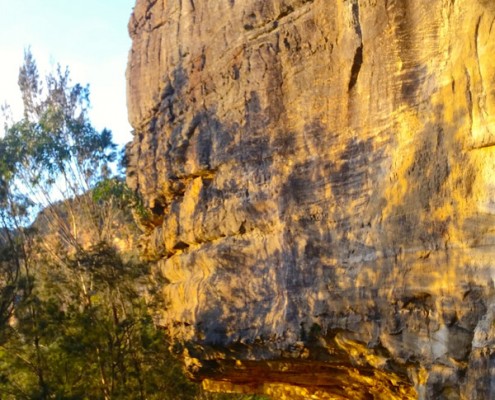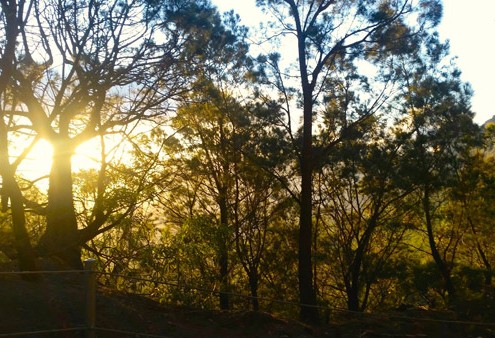 91km – Scenic World Finish (104th)
The last 9kms is tricky.  It's all uphill and in places it's wet and technical.  It was also now dark and I have a very average headlamp.  Even though I was expecting difficult, I was still surprised at how tough the going was from 93kms on.  The good news is I was still in good shape.  I am nearly always the guy that gets passed at the end of a race, but today was different.  All that self preservation early on was paying off – I was passing people quite easily.  Now call me heartless, but there's a certain amount of satisfaction in getting your race strategy right, and it is a very good feeling to pass people that flew past you 10 hours earlier in the day.  It's nothing personal, but it is awesome.  At 99kms you arrive at the base of the furber steps.  This offers a challenging conclusion to the race.  For the first time I actually allowed myself to believe I was going to finish!  I put the hammer down and ascended in 15 minutes with my heart somewhere near my throat.  Coming out the top to the noise and a very relieved wife was absolutely amazing!  Final time was 12:55.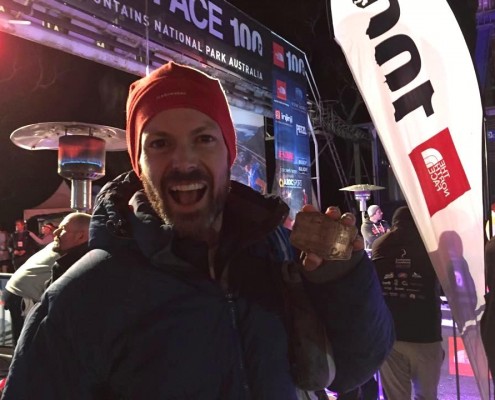 I signed up to TNF100 this year somewhat reluctantly – basically I don't like leaving things unfinished.  Now, all of a sudden, I find myself looking forward to next year… 🙂 Thank you to everyone involved – especially my wife who is the best support crew you could hope for – this is truly an amazing event.
-Andrew McDowall
https://andrewmcdowall.net/wp-content/uploads/2015/05/nothing.png
0
0
Andrew
https://andrewmcdowall.net/wp-content/uploads/2015/05/nothing.png
Andrew
2015-05-30 18:56:26
2015-05-31 08:18:25
The North Face 100 – 2015 Race Report