2016 Northburn 100 mile Report – March 19, 2016 – Strava link
WOAH! Where did he come from?  Hang on.  What was that about hallucinations?  Stop and watch.  Nope.  Definitely a real person.  Bugger.  You've got 10kms to go and somehow you're in third place – but there's someone dressed in black chasing you down – they're about five minutes behind.  Time to move.  Last climb ahead and then it's downhill to the finish – let's go!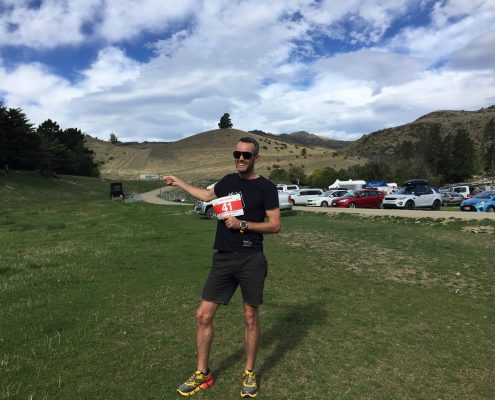 100 miles up and down a mountain range without a tree in sight.  That's the Northburn 100 for you.  Race organiser Terry Davis did his best to scare the wits out of us at the race briefing – using what appears to be his favourite word on several occasions – 'it's bleak up there. There's nothing.  Did I mention bleak?  It's BLEEEEEEAK ok?'
Maybe thanks in part to this, a terrible pre-race-nights sleep followed – I probably managed three hours before waking up at 4:30 on the Saturday for the customary bowl of muesli, banana and a piece of toast with peanut butter. I've discovered eating a big meal before a race is counterproductive – even really long event's like this – I've learned the hard way about that one. Arrive at the start with only a few moments to spare and right on 6am we are off.
Loop 01 – 51kms – 2,650 metres vertical

The ten or so runners in front of me took off with real pace – and for the next hour or so I was constantly being passed by people who seemed to be in quite a hurry – and as a result self-doubt enters the mind (am I going too slow? maybe I'm actually just not very good at this?)  Some were even hurdling gates (ok, I was a bit jealous of this – I tried to jump a gate while training many years ago and ended up flat on my face with two gentlemen staring at me in bewilderment – never again!).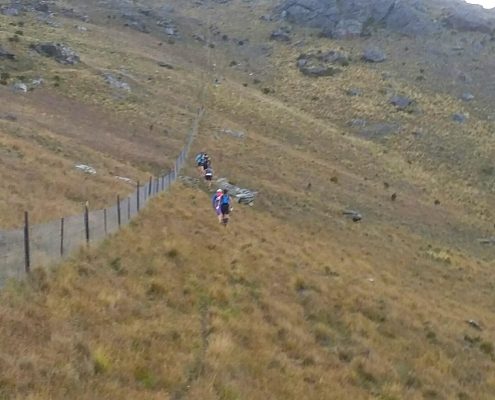 After a while people stopped passing me – which was nice!  I caught up with Tarawera Ultra organiser and trail machine Tim Day on the first big climb – he was in good spirits and said he was in no hurry – just wanted to finish.  We climbed and chatted for a while and then I felt strong enough to push on a bit harder and we parted ways – I was gutted to learn later that Tim pulled out after the first 50km section due to illness.  I'm sure he'll be back.
The following fence line climb goes on forever – it's proper steep and is our first encounter with the speargrass that appears at regular intervals thoughout the race.  Unforgiving and sharp, they are not to be messed with – the spike on them will go straight through the top of your shoe so every footstep is a careful one.  I enjoy climbing though (you really can't run this section) and it appears I like it more than most as this is where I began to pass people – in fact I only gained places walking up climbs – never on downhills, (I'm hopeless at those).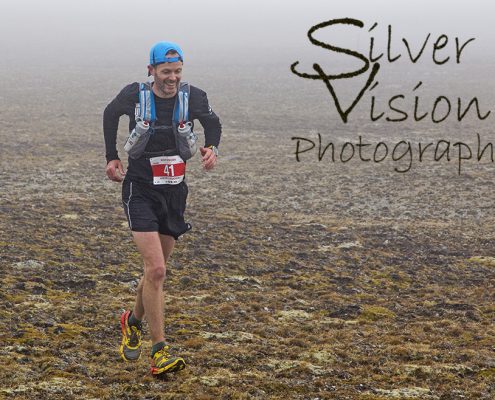 We ran through a moss covered section that was beautiful but hard on the ankles.   At the summit of Mt Dunstan is a HUGE descent – nearly 2 hours straight down followed by the 'loop of deception' – which, because of it's informative name, was not so deceptive!  You can see the start/finish line but head off north for another 10kms – really cool this section with a varied terrain including a sharp drop into a gully and meaty climb out – I think there were even some trees here!
Back to base after 7hrs 10 mins and 51kms.  Feeling really good – no idea about position in the field but wasn't even thinking about that.  Wifey working hard to restock the pack and after about 10 minutes I was off again for the second loop.
Loop 02 – 51kms – 3,755 metres vertical


Heading in while I was heading out was the kids race – so awesome seeing these little fellas running at full speed on trails and having an awesome time!  Gave me a real buzz which was good because the following climb – aptly named the 'Death Climb' was truly impressive.  It was a continuous uphill for two and a half hours to the top aid station TW then another 40 minutes – in unbelievable winds – to Leaning Rock.  Another huge descent followed by a climb back up to Mt Horn (it has two rocks on it that look like horns) – I turn a corner and startle a flock of sheep.  They bolt up the mountain at a pace I can only dream of.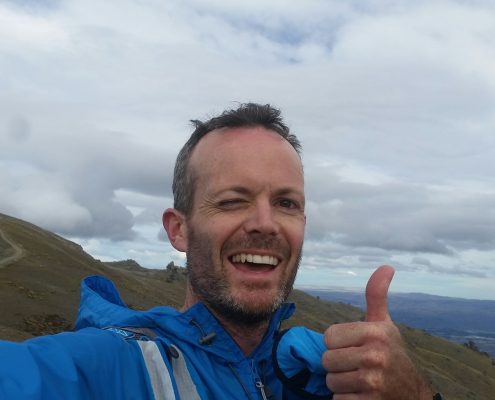 The guys at the Mt Horn aid station here have a little wooden hut to hide from the elements – very simple – a heater, a chair, food – but it looked so inviting after 13 hours of running.  Gotta keep moving though.  Drop down to the pylon track and it turns out this requires a high level of mental fortitude.  It is really zig-zaggy so I never felt like I was making any forward progress towards the end of the stage.  Head lamp came out along here and I finally finished the stage at 10:30pm – 15 1/2 hours after kickoff and 102 kms completed.  I took longer this time – roughly 20 minutes – probably a bit too long on reflection as fatigue was restricting my motivation.  Still feeling ok but quite anxious about what lay ahead.  Freaked out is probably a better description!
Loop 03 – 61kms – 4,019 metres vertical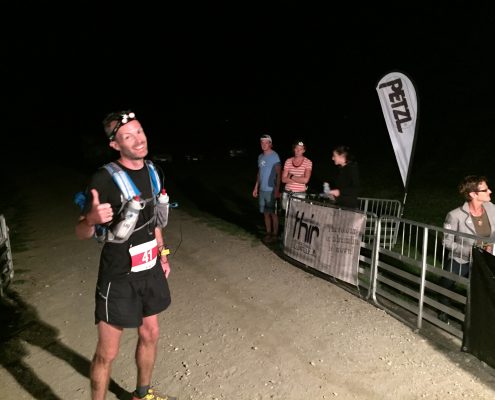 Into the unknown.  Well for me anyway.  I had never run past 15 hours before and never further than 100kms.  I got to pass both these milestones at roughly the same moment at the start of the lap 3.  This loop sets the benchmark for nasty in ultras – 61kms and 4000 metres of vert (38 miles and 13,000 ft) – double the vertical of the Kepler track over the same distance.  Tough on fresh legs, simply stupid after 100k's.  Back out the same way you come in after loop 2, then you head up another climb…up up up … then suddenly two eyes are heading towards me… is that a dog?  No! It's a hare.  It's huge!  It flys towards me and I just had just enough time to think 'ummm… is this going to hurt?' before at the last moment it veered off. Of course it did.  But this is where you realise that you're not exactly thinking straight.  30 minutes later and a headlamp is suddenly pointed at me and voice yells out 'hey! I think I'm lost'.  It's Jean Beaumont, the lead female and a slow realisation dawns – if she's lost, then… umm…. I guess so am I!  How did that happen?  I was following markers right up to that point.  Sure enough, Jean was right, we had missed a junction and were both too far south.
Phone out, call Terry. Not answering. Load maps from website (there is a 4G transmitter on Mt Horn which is mighty handy!) and figure out if we head East over a fence we will connect back up.  When we finally reach the correct junction we are greeted with 'oh, there you two are!' – so at least someone knew we had disappeared.  Time lost was probably 30 minutes and an extra half a kilometre – more for Jean as she had arrived from the far side of the hill.  I heard of several others that missed the same turn off as us and I believe this is being addressed for next year.  All good, what's 30 minutes amongst friends!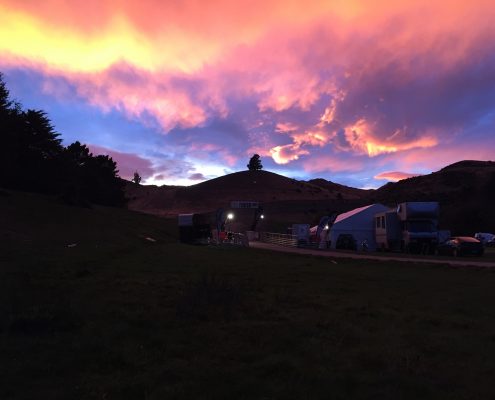 Over Mt Horn, up to TW again then the 'loop of despair' – I kinda liked this.  I know that sounds weird.  Middle of the night, howling wind, huge drop then huge climb – good times! – it was there I gained another place but other than that I saw nobody at all.  Back at TW again and off up to Leaning Rock for the second time arriving around 4am (22 hours in).  By this time the forecast winds had found another gear and were over 60 knots from the north.  On the exposed ridge it was so strong that my shoes we sliding over the gravel as I leaned into the wind (earlier the leader Charlie Sharpe was blown over a fence!) – pretty special conditions.  While up there my headlamp suddenly stopped – plunging me into instant blackness – the first battery was spent but in my state I couldn't work out what the hell had just happened. Has there been a power cut? If so, why now? It took twenty or so seconds for me to realise what was going on (and changing the battery up there wasn't easy!)
Then downwards to something sadistic thing called 'The Water Race' which, well, just felt unnecessary!  Terry said we'd be saying all sorts of things about him by this point and sadly he was right.  I was still feeling fine but it was so technical – there was no track – and that speargrass was back and was super stabby (I landed on one at some point here) so while it wasn't horrible it wasn't something I'm keen to do again any time soon.  The climb back to TW was very steep, epic headwind and my brain was starting to make faces out of the rocks on the ground (reminding me of Edvard Munch's 'The Scream'.)  That actually helped entertain me a bit.  On this climb I moved into 3rd place – I didn't know this I was just putting one foot in front of the other to get to the top of this brutal gravel road climb.
Time for my final TW visit and a last hit of pumpkin soup (those guys up there are just incredible – terribly cold and windy and they have to keep track of who's been where and help find drop bags etc…and they still have a smile on their face –  HUGE respect for that crew) Ten minutes shy of 24 hours I headed down the mountain for the last time.  The wind was still smashing hard so despite feeling good and having a runnable downhill it was slow going.  A last goodbye to the little hut at Mt Horn and down to a checkpoint called 'The Brewery' – I can't remember why but with only ten k's to go, there REALLY should be beer here.  A note for Terry next time.  It was here I found out I was 3rd.  Choice! but…
Just after this, as I turned my headlamp off, I looked across the valley back to the brewery and saw the aforementioned lone figure dressed in black hunting me down.  I went as hard as I could – even running up some of the final climb – to try and hold position.  On the final downhill I saw the turn off I missed hours earlier – so obvious in the daylight!  I stopped to try and work out which way to go – even calling Terry again (sorry mate) who set me straight – all the while wondering when the figure in black was going to come flying around the corner and take that coveted final podium spot (1st and 2nd – Charlie Sharpe and Grant Guise had long since finished).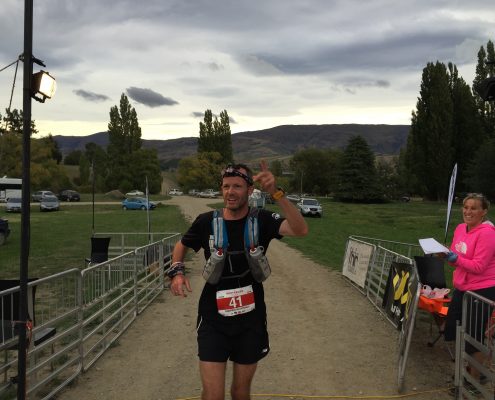 With 3 kilometers to go I decided to just put the hammer down and go for it – big mistake!!  Within seconds everything hurt – a tendon around my right knee shot out in pain, I got the stitch and it felt like something was pinching in my left ankle – super nasty.  Ok, ok, fine then, nevermind finishing with style, let's just finish.  At least it made me realise that I had run the race right below the do-not-go-harder-than-this line for its entirety which was really satisfying.
Round the corner and to the finish!…. but there's nobody there…. then someone shouts out 'runner' and suddenly an enthusiastic crowd appear from nowhere – really quite cool!  A whole tub of ice cream to celebrate and then I told Terry his race was 'a piece of piss'- he called my bluff and suggested making it harder next year – 'oh, nahhh mate she'll be right, leave it as it is, yeah all good!'
_______________
Final stats: 3rd place overall, 27 hours, 5 minutes and 164kms (102 miles) – well, that's what the Garmin watch said so I'm sticking to that!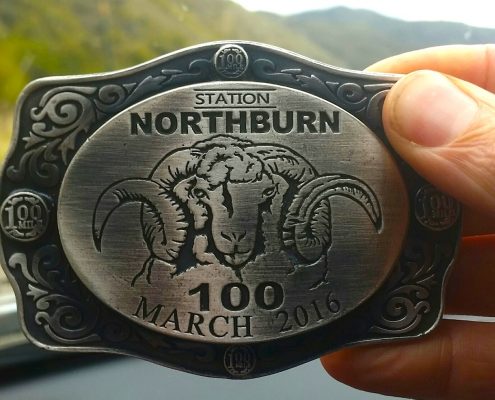 Some thoughts….
The honest truth was that I entered this race with the sole goal of gaining points for two of my dream races – UTMB and Hardrock – and I wasn't really looking forward to 100 miles on the rock – but the people involved and the whole event was just so inspiring that my entire opinion has changed – and I may well find myself at the start line next year just for the sheer fun of it all, it really was awesome.
Oh, by the way, the figure in black never turned up – sleep deprivation is a hell of a drug.
Food:
18 x vfuel gels
6 x One Square Meal cranberry bars (bite size)
4 x chocolate muesli bars
5 x cups of pumpkin soup
2 x snap lock bags of lentils, baked beans, avocado and hummus (approx 500 grams each bag – basically a burrito without the wrap – sucked up in about 30 seconds!)
2 x frozen smoothies – plain yogurt, rice milk, banana, berries, LSA and ground almonds (approx 300 grams per bag)
Doesn't seem like much food but I was never hungry and I felt strong from beginning to end so I guess this works for me!
Liquid:
Water and a few cups of pepsi towards the end
Gear:
Garmin Fenix 3 watch with portable USB charger which allowed it to record the entire event.
Hoka One One Challenger ATR 02 shoes
Icebreaker merino socks (only one small blister)
UD PB 2.0 Vest for all the compulsory gear and food
AY-UP head torch with spare battery
Now the anxious wait for the lotteries for the big three – UTMB, WSER and Hardrock – better start saving now!
Thanks for reading!
-Andrew
P.S. – This is mud – not some new style of activewear! :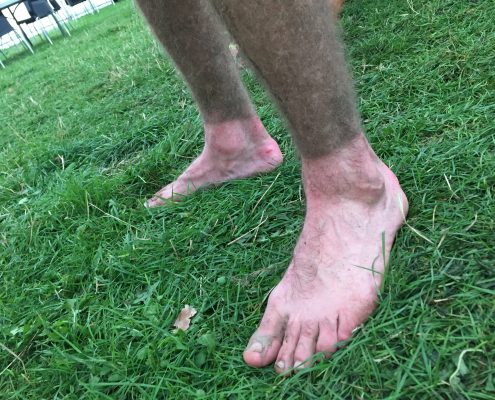 https://andrewmcdowall.net/wp-content/uploads/2015/05/nothing.png
0
0
Andrew
https://andrewmcdowall.net/wp-content/uploads/2015/05/nothing.png
Andrew
2016-04-18 05:05:02
2016-04-18 05:14:01
Northburn 100 – 2016 Race Report