C2K – coast2kosci – 2016 – Race Report
It sounds horrible…and boring … surely!??  240kms on road. Most of it bitumen.  Uphill, downhill then uphill some more repeat repeat repeat……
Boring? Horrible?  Nope.  Not for a second.  Extraordinary?  Yes. Most definitely.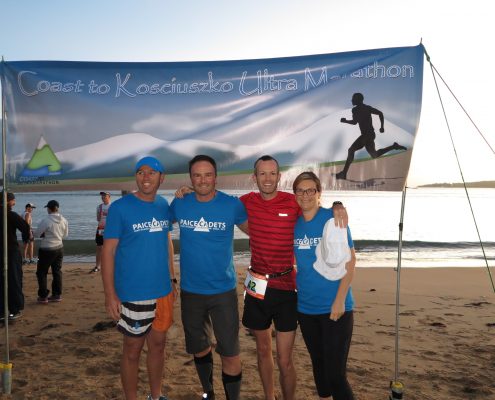 Crew (roving car)
(right to left)
Emma (wife and organiser extraordinaire)
Matt (our neighbour who I knew I could rely on to give me kick up the bum if required)
Rod (local fella from Wagga Wagga who was connected with us by another runner – he hopes to run this himself one day)
Friday 9th December, 2016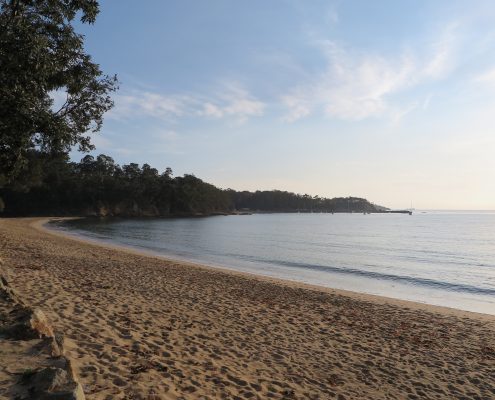 4:15am  – alarm – brain slowly wakes up – what are we doing today? OH THAT'S RIGHT – wide awake now.  The crew is already up and prepping.  You feel immediately unworthy of everything happening – everyone in this little cabin by the ocean is here for you.  They were also up much later than you last night sorting everything else out while you did your best to sleep with such a monumental task ahead.  Your selection in this race also means you are expected to finish – if not, then someone else who missed out on a place will be mightily disappointed in you.  It's also cost a lot to get here, and the logistics of leaving kids behind during school term with multiple babysitters was a monumental challenge unto itself.  And you're the only one representing Aotearoa here.
So no pressure then.
5:30am – Start – Twofold Bay, NSW – simple countdown on the high tide line and we are off.  Weather is calm and cool.  Running is easy and the head is clear.  The inevitable lack of sleep leading up to race day is forgotten.  Ultra maestro and all round good bloke Stephen Redfern ends up beside me and we run along chatting away for the first hour through beautiful rainforest that reminded me of the blue mountains.  There's a pretty big hill in the middle of this but it's barely noticed such is the grand scheme of things to come.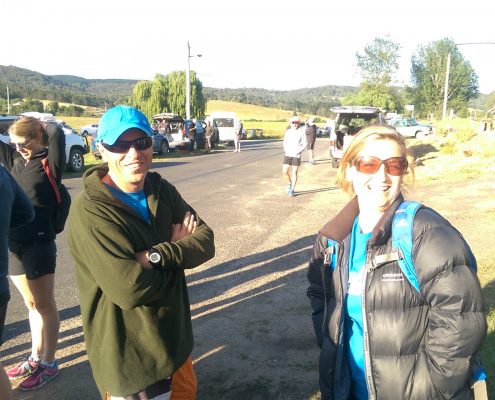 7:51am – 24.5km – 02:21 elapsed – Towoomba School – the first opportunity to see the crew – they were in great spirits having had a fantastic breakfast courtesy of the local school (their biggest fundraiser of the year).  Quick bottle change (drinking mainly tailwind for 2/3rds of the race) and few nuts and a muesli bar and off.  First opportunity to get a feel for the roving machine – crew cars start going up the road as their runners clear out of this checkpoint.  Suddenly there's an energy coming from the extra traffic and support.  It's fairly unique (I imagine Badwater is similar to this) and it's really cool.  You get to know other runners crews really well as the hours tick by – and everyone is awesome.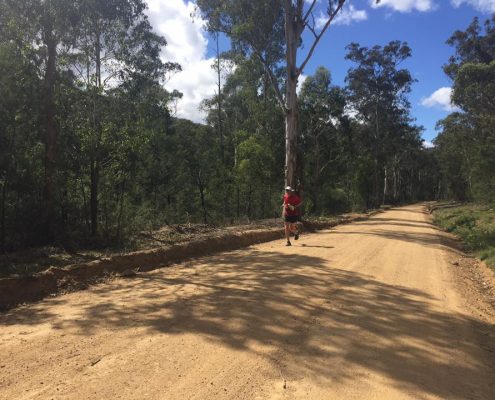 11:20am –  57.0km – 05:50 elapsed – Bottom of big jack mountain – this is the start of the longest steep climb of the event – 6 1/2k's at a decent gradient – it took me 70 minutes even though I was giving it a good push the whole way.  Despite the time, I was quite surprised to reach the top when I did – I was expecting a bit more hurt – but there was plenty of that to come later so I should have been thankful.  The top of big jack is the start of the higher plateau – and a lot of straight road running into a nasty headwind.  It is surprisingly cold – it's the middle of a sunny day in December in Australia and I'm wearing a jacket while running.  Very unusual!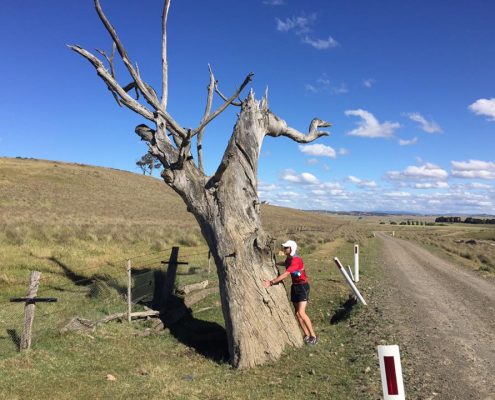 4:51pm – 102.5km – 11:21 elapsed – Big Dead Tree – this is the world-famous-at-C2K big dead tree.  I am reliably informed it used to be much larger than it currently is, but being dead, bits have gradually fallen off.  A significant milestone of 100k's here.  Very happy with time so far, I'm only 20 minutes or so away from the 30 hour split estimations.  However, problems are now becoming evident.  My left ankle is getting very sore at the top – like my laces are done up too tight but I have been checking them a few times and they are pretty loose.  Currently a mystery that I would be unable to solve until it was too late.  There is also a bit of pain developing behind my knees – both these problems are first time problems for me so I'm having trouble trying to work out what to do.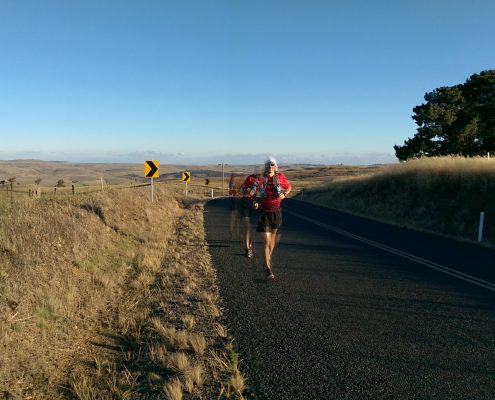 7:19pm – 119.4km – 13:49 elapsed – Top of the windmills – You can see these windmills for about four hours before you pass under them – but mentally it gets worse – once you reach the top you find the setting sun revealing a very, very distant mountain range on the horizon – the finish line is somewhere in there – and it looks impossibly far – just a faint outline over 100 kilometres away.  What was I thinking?  Look down.  Don't think.  One foot in front of the other.  Just focus on the next little bit.  Technically this is halfway – but it's not really!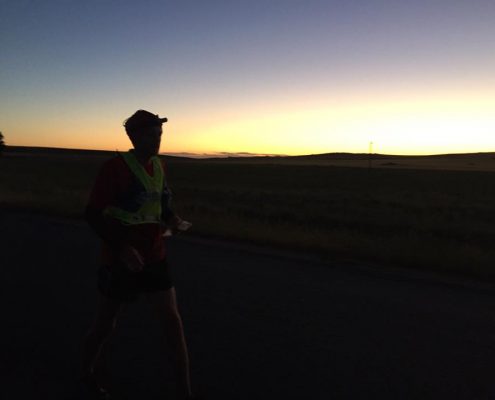 9:45pm – 138km – 16:15 elapsed – on a hill somewhere – now there's a new, very unexpected, problem.  I am falling asleep.  What!!? Already!!?  This is not 'I'm tired' sleepy either – it is full blown staggering into the middle of the road while the asphalt makes Van Gogh liquid brush stokes in front of me.  Shit.  My other all-nighter race (northburn) I never felt sleepy for a second so this is a major surprise.  I think the week of madness has caught up with me and it is putting its foot down.  I tell Matt, who has joined me for pacing duties, that we have a problem.  Up to this point I was holding a top ten position so it's a gut wrenching decision (but, really, I had little choice) to jump in the back of the car and close my eyes.  20 minutes I tell the crew who show no sign of the disappointment they must be feeling.  After 15 minutes I self woke.  Again the brain slowly wakes up -'where am I?' then the loudest voice you could imagine in your head shouts 'YOU'RE IN THE MIDDLE OF A RACE, GET UP AND GO NOW!!'  bang.  out the door.  Suddenly everything is clear again.  I have lost valuable time and position but I am moving again and I am awake.  A bit cold but I soon warm up and we make good time heading into the major checkpoint of Dalgety.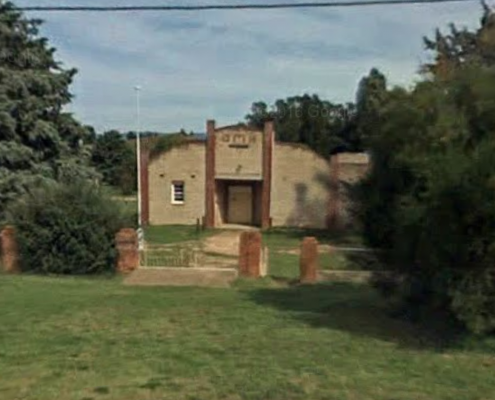 11:13pm – 147.4km – 17:43 elapsed – Dalgety – this is an actual town – with a pub!  Which is now closed.  But the town hall has opened its doors and put on a feast for the crews – runners are actively discouraged from entering but a few do.  I was weighed here (identical weight to my registration weight – 68.8kgs – so no problems with hydration) and sent on my way with crew member – and Australian Army Sergeant Rod Foster – for what would be a very long night and morning of pacing duties.  Pain behind the knees is getting worse and the ankle is also screaming.  Ignore it.  Move on.
Saturday 10th December, 2016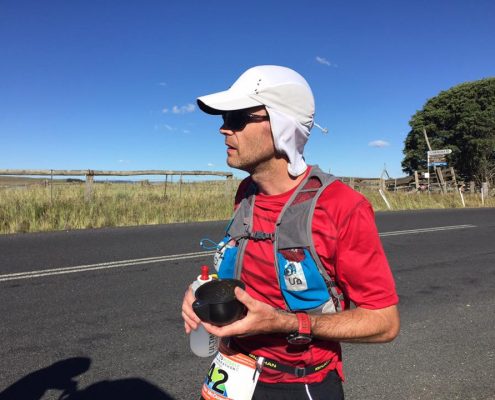 1:10am – 161.3km – 19:40 elapsed – base of Beloka range – 100 miles! and a new PB by around 7 1/2 hours – although comparing the vertical in this race to northburn makes for an unequal comparison of time – nonetheless – I'll take it!  Very steep climb here – but relatively short – 3kms – I like these sorts of climbs as I can just keep plodding along fairly confident that nobody is going to come flying past me as running up here at this stage of the race is fairly unheard of.  Nice gentle descent as we make our way towards Jindabyne.  Despite running a reasonable amount of this, it takes forever to get there – lots of deceptive lights and roundabouts as we approach the town.  I am, once again, falling asleep on the slower hill climbs.  Dammit!  A few ks out of Jindabyne and I'm back in the car sleeping – this time in the passenger seat and for only ten minutes.  Once again I wake up without cue and am straight out the car – brain yelling at me once again GO!!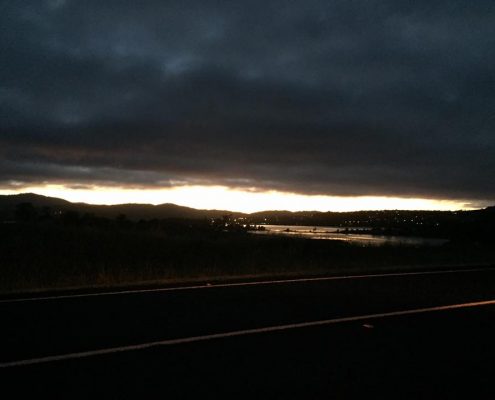 5:00am – 183.2km – 23:30 elapsed – Jindabyne – really in the hurt box now.  Managed to run fairly well into the checkpoint along the lake but the leg problems are biting now.  I stop here for some blister treatment – thank you Emma! (honestly, she was amazing every step of the way on this journey) nothing too major, blisters, thankfully, weren't a problem throughout the race.  The Altra shoes have a wide toe box and the only blisters I had were between the toes – so no complaints there.  Change of socks here…. wait….. that feels much better on my ankle…. WHAT! REALLY!!!? are you telling me that the socks elastic was too tight around my ankles and that's why I've been in pain for the last 15 hours?  Yep, turns out that's all it was.  Tendon is buggered now though and a change of socks isn't going to fix that sadly.  Rookie errors really (before the race I thought they were the greatest socks ever….).  I have taken a while getting sorted here and I make another rookie mistake – I got cold and didn't notice.  As we head off again – Rod still pacing – dawn is arriving.  It is beautiful with the sun rising over Lake Jindabyne – but the air temp is hovering around 0 degrees C and I'm start to get hypothermia.  Rod had a walkie talkie but the car is too far down the road.  Fortunately another crew is going past and we flag them down to go and get our team.  Jump in the passenger seat, turn up the heating and throw everything on.  Takes a while to reach what I considered an arbitrary acceptable temperature and we're out again.  Rod had fallen asleep with his head on the steering wheel but as soon as I said let's go he was out the door faster than a bullet.  Army training eh.
12:30pm – 222km – 31:00 elapsed – Charlotte Pass – Before reaching Charlotte Pass three major things happened – 1. I just about stood on what we think was a brown snake curled up on the side of the road (sorry – didn't get a photo!).  I never saw it but Matt, who had given Rod a break on pacing duties, sure had and he grabbed my arm and pulled me away just in time.  Was a really close call!  2.  I had to sleep again – it appears that the ten minute power nap buys me about 7 hours awake time.  Pretty good return on investment there really but still frustrating to have to had slept three times.  Same story as the other two – self woke after ten and was off.  This was the last sleep until the finish – as I said to the crew during some of the darker hours – all I cared about was a pillow – not the finish, not a celebratory beer, just sleep.  I guess I really was far too tired going into the race but there you go. 3. I started to be able to run the downhills and the flats again.  It was under immense pain but I was sick of walking – so slow!  Weigh in again at Charlotte pass – 67.7kgs so only 1.1 kg loss – no problems.  Matt now had the big job of getting me to the summit and back.  The pacer also has the rough job of carrying all my mandatory gear as well as his own.  Thanks mate!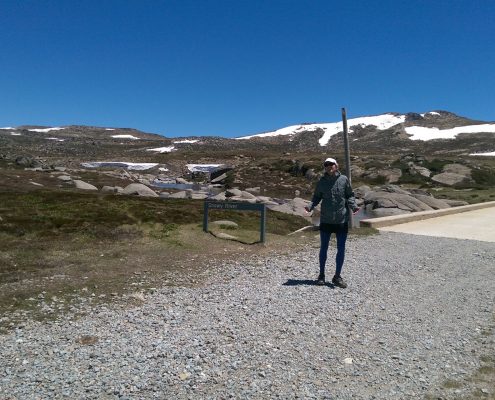 2:30pm – 231km – 33:00 elapsed – Mt Kosciuszko summit 2228 meters – Unbelievable views up here.  Picture perfect day and you could see in all directions for miles – the ranges to the west seem to go on forever.  A quick, and very difficult, climb up onto the rocky trig for the mandatory photo then off back down.  No chance of running anymore.  My energy and fitness is willing but the ankle and back-of-knee pain is just beyond anything I can tolerate.  I figure, what's an extra hour of walking on such a nice day! (ok, I was probably less diplomatic than that but absence makes the heart grow fonder…)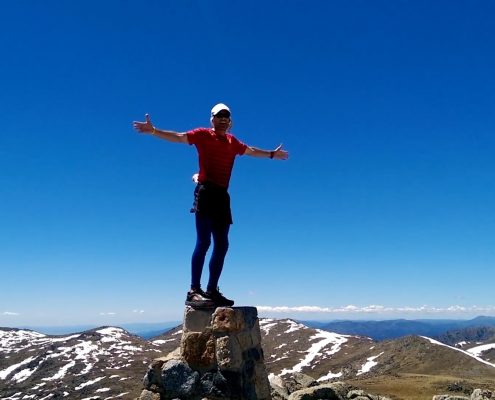 4:17pm – 240km – 34:47 elapsed – Charlotte Pass and Finish line – 19th Place overall – it is a strange experience to be suddenly at the end of something this epic.  It's not your standard cross-the-tape experience high-five.  Kind of a bewildered 'is it really over? can i stop now?' feeling.  I find a chair in the shade and try to let it all sink in.  More people finish and it is fantastic watching the celebrations from everyone.  The sun is shining, I have a massive jacket on and sleeping bag around my legs yet I am shivering.  Time to go.  On the journey back down the mountain to Jindabyne we pass other runners making their way slowly up to Charlotte pass.  They have many hours ahead of them – a lot in the darkness of the second night and I feel nothing but admiration for the guys and gals doing it really tough.  I pass out and wake up at our digs – beautiful lakefront – enough time to have half a beer, eat a burger and finally close my eyes for a proper sleep.  My feet are incredibly swollen and I have tennis ball lumps behind both knees.  The overall pain is monstrous.  As I type this one week later I am only just getting to the point where the swelling has gone down and I can walk without pain again – that's a long recovery time even for a run as big as this one.  Many things have been learned.
Rod ended up running/walking 80k's with me and Matt was somewhere over 30ks as well – a massive effort by my crew and I can't thank them enough.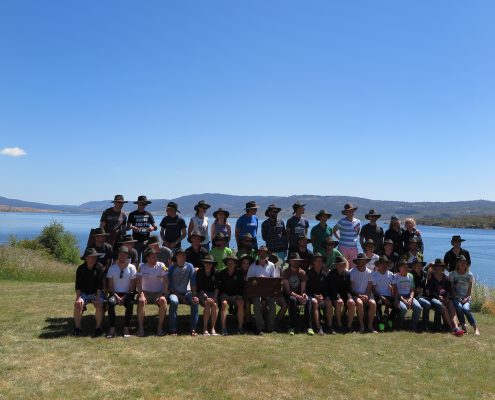 The aftermath
The next day is breakfast and prize giving.  Paul and Diane, the race organisers really are special people and one of things that stands out about the race is that every runner is treated as an individual – not a number.  At the presentation of the Akubra hats I was impressed to hear Paul describe every runners race without notes – pretty good for someone who probably hadn't slept for at least two days!  A quality display of zombie walking from all athletes present.  Stephen had placed third on debut and looked fresh as a daisy – that day he ran back up Mt Kosci with his crew for a celebratory beer.  Some people eh!!
On the drive home Matt and Emma were already talking about 'next time' while I can't even straighten my legs.  Hang on a minute fellas! I was sure this was a one-off adventure.  But there are three problems with 'never again' – 1. I'm sure can do better – many hours better so long as I sort out whatever happened with injuries – 2. the course is so much more beautiful than I expected – google maps really doesn't do it justice! 3. the crews and community in and around this event are truly special – I'm going to have to stop taking the mickey about our friends over the ditch – they are a bloody good bunch I tell ya.

Food (loose guess – it's all a bit blurry):
5 x snap lock bags of lentils, baked beans, avocado and hummus (approx 500 grams each bag)
2 x frozen smoothies – plain yogurt, rice milk, banana, berries, LSA and ground almonds (approx 300 grams per bag) I needed more of these – we'll know for…cough… next time
4 x SAS gels (NZ stopped selling vfuel which is my normal go-to but I believe they are back on the shelf now)
4 x One Square Meal bars (bite size)
4 x chocolate muesli bars
5 x cups of pumpkin soup
Lots of nuts.
Liquid:
Tailwind, water and a 750ml bottle of coke.
Gear:
Garmin Fenix 3 watch with portable USB charger which allowed it to record the entire event (had to recharge twice on this one!).
Altra Paradigm shoes (didn't change them, maybe I should have, not sure)
Smartwool merino socks (never again – lesson learned – elastic is too tight around ankle!)
UD AK 2.0 Vest for carrying tailwind before I could have pacers.
AY-UP head torch with spare battery (kept randomly turning off – service time!)
Oh, and a carload of other stuff available if needed.
Thanks for reading!  Until the next adventure!!
-Andrew and the mighty 'Paice Cadet' crew of Emma, Matt and Rod
https://andrewmcdowall.net/wp-content/uploads/2015/05/nothing.png
0
0
Andrew
https://andrewmcdowall.net/wp-content/uploads/2015/05/nothing.png
Andrew
2016-12-16 01:17:35
2016-12-16 01:17:35
C2K – coast2kosci – NSW, Australia, December 9th – 10th 2016